About Flag Football
Flag football is a non-contact version of American football where, instead of tackling players to the ground, the defensive team must remove a flag or flag belt from the ball carrier ("deflagging") to end a play.
Here is a summary of flag football from the British American Football Coaches Association BAFCA.
The Rules
Flag rules are simple, here is a quick summary of Flag Football rules:
 The Game Overview
Flag Football is a Non-contact sport. Tackles are made by pulling flags from a belt around the waist. 
The game is divided into 2 halves of 20 minutes each. 
The Aim of the game is to have the most points by the time the game is over. 
Each team has an unlimited number of substitutions.
The Points
Points are scored by advancing the ball into the opponents End-zone, this is called a 'Touchdown'. 
6 points are scored for a touchdown and once a touchdown has been scored that team then gets an 'Extra Point' attempt from the opponents 5-yard line for an extra point.
Teams can also elect to attempt an extra point from from the 10 yards instead of the 5 yard line. If this attempt is successful, they are awarded 2 points instead of 1 point.
  The Game
Each team starts their offensive drive at the own 5yard line. They then have 4 attempts or "downs" to advance the ball to the halfway. If a team makes it is over the halfway line, they then get another 4 downs to get a touchdown.  
Teams can advance the ball in a couple of ways:  

Throwing Play – This is where a player (usually the quarterback) will throw the ball to a receiver, who will catch the ball and advance up the field until they have been tackled or has scored a touchdown.  
Running Play – This is where a player (usually the quarterback) hands the ball off to a receiver. This player then runs the ball until they are either tackled or have scored a touchdown. This is considered a safer play than a throwing play.  

Once a player with the ball has been tackled, the ball is advanced to the spot of the tackle and a new play begins.  
If the team runs out of downs, then the opposing team takes over the ball from their 5-yard line.
Player Positions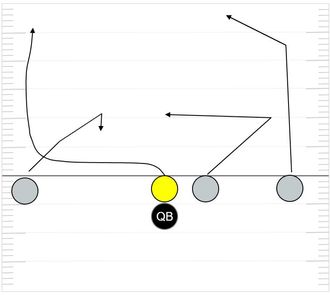 Offensive Positions
Quarterbacks will throw or hand off the ball to a receiver.  

Centres put the ball in play by "snapping" the ball to the quarterback. This player will then run a route to possibly receive the ball.  

Receivers run routes to receive the ball and advance it downfield.
Defensive Positions
Corner Backs attempt to stop the offense from advancing the ball. They usual concentrate on short runs and throws. 
Blitzers Apply pressure to the opposing teams Quarterback and attempt to tackle them. 
Safeties are similar the defensive backs except they look for the longer throws and runs.